Celebrate the 100th Anniversary of Women's Right to Vote!
After a 72 year battle, women won the right to vote when Congress passed the 19th Amendment in 1919 and 36 states ratified it by 1920.  
How will your branch celebrate this historic event?
Here are some resources to get you started in your planning from Kimble Medley, AAUW FL Women's Vote Centennial Chair and Flagler County Branch Publicity and Social Media Chair.
Local Proclamation(s): Here is a link to the National Women's History Alliance Women's Equality Day 2020 Proclamation template:
Light Up Your Community with the Forward Into Light campaign.
    b). You will receive an email from: Forward Into Light
    c). You will then have access to (2) flyers, English and Spanish, and a Social Media Guide.
    d). On the 4th bullet of the Social Media Guide, click on online media folder
containing various images.
Please sign up so your branch may be recognized for its participation.
Forward Into Light is offering a 15 minute documentary about Inez Milholland. It is the perfect length for a Zoom meeting.   Here is a link to that information:
http://inezmilholland.org/
Contests & Skits
AAUW Florida Essay Contest 2019 Template
Women Voting Skit Original Script
Women WON the Vote Skit Florida Revised
Women WON the Vote Master Script with Mary McLeod Bethune
Facebook Notes                                                                                                                                              2020 Centennial AAUW FL Facebook Note                                                                                    Woman Suffrage Book Display Facebook Note
Women WON the Vote Skit Facebook Note
Florida Historical Quarterly Articles                                                                                                  Florida Women Get the Vote Article
The Woman Suffrage Movement in Florida Article
Florida Suffrage 100    https://floridasuffrage100.org/
Forum: The Magazine of the Florida Humanities Council – Learn about Florida's suffragists in From Then to Now:  Women and Political Participation 1900 – 1982. https://floridahumanities.org/wp-content/uploads/2017/08/Vol_18_No_3_Winter_1995-1996.pdf
National Women's History Alliance – an American non-profit organization dedicated to honoring and preserving women's history.  https://nationalwomenshistoryalliance.org
National Women's History Alliance Gazette How Women Won the Vote-Volume Two (Part 1)  How Women Won the Vote-Volume Two (Part 2) How Women Won the Vote-Volume Two(Part 3)
Puzzlemaker through Discovery Education
offers easy ways to make your own puzzles – a great idea for generating discussion. 
Many thanks to AAUW Sun City/South Shore for sharing!
Women's Vote Centennial Initiative – a collaboration of women-centered organizations working to coordinate and amplify the centennial celebrations across the nation.                            Women's Vote Centennial Initiative Toolkit   &    WVCI Merchandise Toolkit
                               
Florida Branches – Women's Vote Centennial Activities
Flagler County
Flagler County has planned activities throughout 2019 and 2020.  A project began early in 2019 to identify descendents of the first women to register to vote in the County and to honor these women through a variety of events.    Dear Women of Flagler Invitation
A Women's Equality Day program was held on August 26, 2019 at the Flagler County Public Library that featured a member performed skit,  "Women Voting:  How Did THAT Happen?"
The branch partnered with the Flagler County Public Library to create a display of women's suffrage books and DVDs during the week of Women's Equality Day 2019.
The branch is sponsoring an essay contest for middle and high school students with the winners invited to the Women's History Month meeting in March 2020.
AAUW Flagler and Painting with a Twist unveiled the newest additions to the Painting with a Twist design catalog on September 20, 2019.  AAUW Flagler reached out to Cyndi Morelewicz, owner, and Sara DeLong, studio manager of Painting with a Twist, Palm Coast, to develop a design that celebrates next year's 100 Anniversary of the 19th Amendment.  The creative process began this past March.  Painting with a Twist corporate office approved and added four new designs celebrating the day when American women WON the right to vote.
These designs will be available in Painting with a Twist locations nationwide.Contact your local Painting With a Twist to schedule fundraisers or just a fun event featuring these new designs – celebrate the winning of the hard fought battle to vote!
~~~~~~~~~~~~~~~~~~~~~~~~
AAUW Flagler was invited by the Flagler County Historical Society to participate in Smithsonian's National Museum Day on September 21, 2019.  AAUW Flagler members portraying suffragists  promoted National Voter's Registration Day and the upcoming 100th Anniversary of Women's Right to Vote by interacting in character with museum visitors and distributing voter registration applications and other voting information.  The Holden House, built in 1918, was recently named to the National Register of Historic Places.
On November 8, 2019 the branch partnered with the Flagler-Palm Coast Campus of Daytona State College for a showing of Iron Jawed Angels and display of student's Women's History projects.
Manatee County
On February 1, 2020 Manatee County Branch focused on woman's suffrage at its annual scholarship fundraiser – "Year of Women – Celebrating a Century of Women's Vote."  The guest speaker was Kathryn Chesley, a theater educator and trained actress who performed a Life and Times Portrayal of Rose Wilson, a daring newswoman who was the first woman to register to vote in Manatee County.   Check out the links below for great ideas Manatee County has shared with other FL branches.
2020 Scholarship Fundraiser Program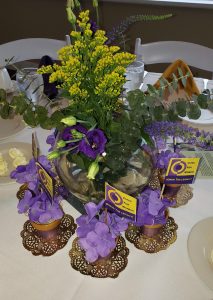 St. Augustine
AAUW St. Augustine branch held a Suffragette Tea on March 12, 2020.  By all accounts, it was informative and entertaining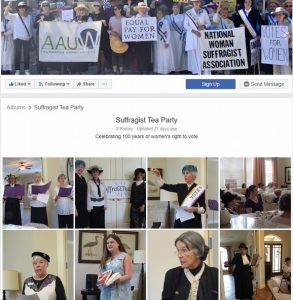 Sun City Center / South Shore
On July 13, 2019, members of AAUW Sun City Center / South Shore gathered to begin their celebration of 100 years of Women's Suffrage.  Sixteen AAUW members, including 3 guests, celebrated the occasion with a luncheon. They discussed the history of the suffrage movement in Florida, and had some fun with games highlighting the year 1969.
Florida ratified the 19th Amendment to the US Constitution on May 13, 1969.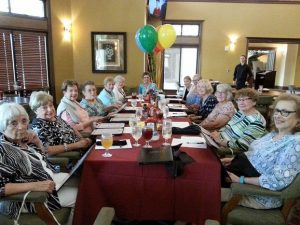 Vero Beach
AAUW Vero Beach Suffrage Article: Faced with Many Issues, Women Prioritized Getting the Vote 
Vero Beach celebrated its own 100th Anniversary on October 26th, 2019, and the Vero Beach Branch marched for the vote with a coalition of women's groups.