Read the latest AAUW Florida Newsletter, FloriVision- October 2018, 
now.  It is full of interesting information and dates.
Florida TechTrek will have two camps in 2019.  One at Stetson University in DeLand June 9 -15 and the other in Jupiter June 16 – 22 at Florida Atlantic University.
The 2019 AAUW Florida Leadership Conference will be held on Saturday April 6th and Sunday April 7th at the Ocala Holiday Inn Hotel and Conference Center.  
The registration details and cost information will be available soon.  The conference will begin late morning on Saturday April 6th and end at noon on Sunday April 7th.  It is conveniently located off of I-95.
AAUW Florida's new strategic plan!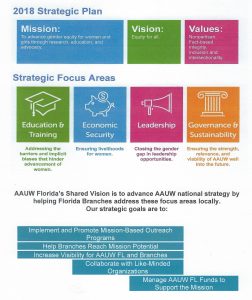 The Florida Strategic Plan was created at a recent Florida state board meeting and is based on the AAUW Strategic Plan that was  developed inclusive process involving the AAUW Board of Directors and staff. Click on the graphic above to enlarge it so it is easily readable.
Click here to read the new 2018 AAUW Strategic Plan
The Branch Leadership Support Training Conference Calls
ARE YOU TRYING TO FIGURE OUT HOW TO REACH NEW PROSPECTIVE MEMBERS IN YOUR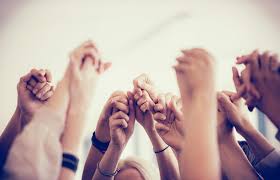 COMMUNITIES AND GROW YOUR BRANCH?
WE WANT TO HELP YOU– Make plans to participate in our skills Training Calls for Branches!   AAUW Florida is working hard to develop a communications plan to meet the unique needs of our local branches and prospective members.
AAUW has a wide range of resources to support your branch development efforts. We want to hear from you; want to know your needs and share some available resources to help your branch grow!  
Branch Leadership Development class:
February 12 at 4:30:  Women's Economic Security: Learn more about Dr. Mary Gatta's preliminary research on Hispanic Women in Florida.
March: Public Policy
The conversations are led by various AAUW Florida Board Members and branch experts
Network and Connect with other branches to learn strategies and techniques that can help your branch and give leaders the confidence they need to take on new challenges. Read more
YOUNG WOMEN IN STEM IN FLORIDA- TECH TREK CAMP
At each Tech Trek camp the girls are immersed in a world that empowers and encourages them to think about themselves as future scientists, engineers, mathematicians, and computer specialists. They learn about the various STEM fields by attending core classes, work and Professional Women's Night where they meet women who are currently working in various STEM careers.  The girls also work in very small groups where they learn to build bridges, program robots to do specific tasks, write computer applications, etc.
Sue Slone, Tech Trek Florida Camp Director, announced that in 2019 there will be two Tech Trek camps attended by 48 girls at each camp in. The first camp will be at Stetson University in Deland from June 9th to June 15th.  The second will be at Florida Atlantic University in Jupiter from June 16th to June 22nd  The girls, their counselors, camp teachers and other camp personnel will reside in a college dorm and dine in a campus cafeteria. .  This year 96 of the girls who were nominated by a science or math teacher, completed an application and were  interviewed by a committee of AAUW members, attended the camp on the campuses of Palm Beach Stare College and Florida Atlantic University. For additional information visit the AAUW Florida Tech Trek website.
Are you excited about young women in STEM? Click here to visit the link for for more information or to become a sponsor!