STOP SEPARATING FAMILIES!
AAUW's letter to Congressional leadership said in part,  "As organizations that represent women and families, we reject this President's treatment of immigrant women and children and call on Congress to enact policies that respect the sanctity of a family, create a common-sense and humane immigration process, and build a brighter future for the United States."
Recently here in Florida, Senator Nelson and Representative Wasserman-Schultz were denied entry to a detention facility for young immigrants in Homestead. Some say 1,000 children are being detained, but an article in the Broward Sun-Sentinel said there were almost 1,200 of whom less than 100 had been separated from parents (the rest had attempted to immigrate alone). However, there may be more at other sites and younger children. In any case, it's time for us to contact our representatives and ask them to do the right thing. Keep reading!
Here are our Senators:
Bill Nelson (D) 202-224-5274
Marco Rubio (R) 202-224-3041
You can find and contact your representative at:
https://www.house.gov/representatives#state-florida
You can call them using the number on this page or email them by clicking on their name. Copy and Paste the message below into an email today!
As a member of the American Association of University Women of Florida, I support the position articulated by our national office in their letter to US House and Senate leaders protesting the separation of children from their parents at the US borders, as well as other harsh measures that have been especially hurtful to women and children. We understand that 1,192 teenagers and possibly younger children are being held in a facility in Homestead, FL. The denial of entry to Senator Nelson and Representative Wasserman-Schultz makes it hard to determine exactly what is happening there.
______________________________________________________________________________________________
TELL US WHO'S WHO and NEW AT YOUR BRANCH!
Hey Branch Presidents, we are updating our State Directory. Please take a minute to download and complete the Branch Leadership Form 2018 – 2019 and return to Pat Ross paross@aol.com by July 1!

THE RESULTS ARE IN!
Proposal #1 to create staggered board terms passed. Staggered terms will affect elected and appointed AAUW Board members starting terms in 2019. More information will be available during the application and election periods in the coming year, and the AAUW Governance Committee will work closely with the AAUW Nominating Committee and staff to ensure a smooth transition.
Proposal #2 to allow non-AAUW member eligibility to Board did not meet the percentage required to pass.
Proposal #3 to remove the educational requirement to AAUW membership did not meet the percentage required to pass.
The more detailed review of the results from the vote this year can be found here, and more detail and information about voting in your state is also available on the website. 
———————————————————————————————————————————
The Branch Leadership Support Training Conference Calls
Branch Leadership series calls run August through April. Be sure to check back in July for our next series!
Network and Connect with other branches to learn strategies and techniques that can help your branch grow and give leaders the confidence they need to take on new challenges. Read more
___________________________________________________________________
AAUW supports a strong system of public education that promotes gender fairness, equity, and diversity
The American Association of University Women strongly supports the vigorous enforcement of Title IX and all other civil rights laws pertaining to education.
Title IX of the Education Amendments of 1972 was the first comprehensive federal law to prohibit sex discrimination in education. It covers women and men, girls and boys, and staff and students in any educational institution or program that receives federal funds. This includes local school districts, colleges and universities, for-profit schools, career and technical education agencies, libraries, and museums. Music classes or choirs, sex education classes, and sports involving bodily contact are exempt from Title IX, as are religious institutions if the law would violate their religious tenets. Admissions policies at private undergraduate institutions are also exempt.
States Notch Multiple Equal Pay Victories in 2017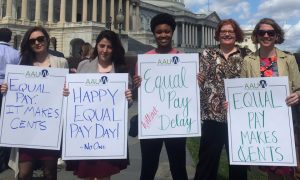 Voters are fed up with the persistent gender pay gap, and many state legislators are listening. In 2015 and 2016 dozens of legislatures proposed and enacted bills and laws addressing pay inequality. In 2017 a whopping 42 states, plus Puerto Rico and Washington, D.C., offered legislative solutions to the gender pay gap. While not all of these bills passed, this growing activity shows that red, blue, and purple states realize that the pay gap is real and that something needs to be done about it. (Pictured- AAUW staff and interns rally on Capitol Hill in Washington, D.C. on Equal Pay Day 2017).
__________________________________________________________________________________
Know Your Rights: Workplace Sexual Harassment
Sexual harassment is a form of sex discrimination that violates Title VII of the Civil Rights Act of 1964. Title VII is a federal law that prohibits discrimination in employment on the basis of sex, race, color, national origin, and religion, and it applies to employers with 15 or more employees, including federal, state, and local governments. Even with Title VII's protections, many people across the country still face sexual harassment in their workplaces.
Read more
_____________________________________________________________________
Gender & Racial Pay Gaps for 25 Major U.S. Cities
(note: content including shareables and an embeddable interactive map will be published on Monday, December 11. Stay tuned to the AAUW news feed or Facebook feed for the release of this data. We will specifically work with branches in the 25 cities analyzed to add the map and related content to your websites.)
The gender pay gap is a real and consistent problem, which is all too apparent when we examine the data on the earnings of men and women. No matter how you break down the numbers—by state, by age, by education, or by occupation—the gap is substantial. And cities are not immune to this problem, as our new analysis shows.
AAUW has analyzed the pay gap faced by women of different races and ethnicities in 25 of the largest U.S. metropolitan areas. The analysis revealed that there is a substantial gender pay gap in all 25 cities, with even larger gaps for black and Hispanic women.
Frequently Asked Questions about the Gender Pay Gap
Simply put, the gender pay gap is the gap between what women are paid and what men are paid. The most commonly cited gender pay gap statistic in the United States compares the median annual earnings of women who work full time, year-round against the median annual earnings of men who work full time, year-round. There are as many ways to calculate gender pay gaps as there are ways to calculate average pay earned by workers, as long as the original data source records whether workers are men or women. Though the ratio of women's pay to men's pay varies depending on the data source and analysis, the finding that women are paid less than men is extremely consistent.
CLICK HERE TO DOWNLOAD THE "SIMPLE TRUTH" TO LEARN MORE ABOUT THE GENDER PAY GAP TODAY!  Click here for the Spanish version!
Get involved with PAY EQUITY advocacy in Florida!
The gender pay gap is real, and it hurts women and families. Passing a federal law, like the Paycheck Fairness Act or the Fair Pay Act, would help protect everyone in all states. But until that happens, each state will continue operating under antiquated regulations and piecemeal state and local laws to combat unequal pay. While some states do have stronger laws than other states, AAUW members will keep working to make the whole country a better place for women to live and work.
Median earnings for men in Florida were $41,105 compared to $35,604 for women — an earnings ratio of just 87 percent, or 3rd out of all states and the District of Columbia. The gap is worse for women of color and moms. Compared to white men's wages, in Florida Asian American women are paid 74 percent,1 African American women are paid 61 percent, Native American women are paid 65 percent, and Hispanic and Latina women take home just 59 percent. As efforts stall at the federal level, states can enact legislation to help women and families at the local level.
---
YOUNG WOMEN IN STEM IN FLORIDA- TECH TREK CAMP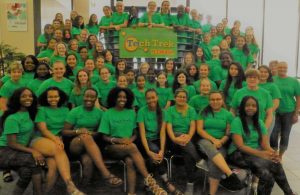 At each Tech Trek camp the girls are immersed in a world that empowers and encourages them to think about themselves as future scientists, engineers, mathematicians, and computer specialists. They learn about the various STEM fields by attending core classes, work and Professional Women's Night where they meet women who are currently working in various STEM careers.  The girls also work in very small groups where they learn to build bridges, program robots to do specific tasks, write computer applications, etc.
Sue Slone, Tech Trek Florida Camp Director, announced that the 2018 camp will again be held on the Palm Beach State College Boca Raton campus from June 10th – 16th. The girls, their counselors, camp teachers and other camp personnel will reside in one of the dorms on the adjacent campus of Florida Atlantic University.  This year 64 girls who were nominated by a science or math teacher, completed an application and were  interviewed by a committee of AAUW members have been invited to attend the week long camp. The girls must be in 7th grade now and be ready to enter the 8th grade in the fall of 2018.
Are you excited about young women in STEM? Click here to visit the link for for more information or to become a sponsor!
---
Help the leaders of your branch and others in your state build the skills they need to increase their AAUW impact. Use this step-by-step guide to help you reach out to and plan leadership training for your local branches.
NEW TO LEADERSHIP? 
Access the resources you need to be an effective leader and advance AAUW's mission. Browse AAUW's nine leadership core skills Get access to Leadership Essentials here!
---
Is your AAUW branch or Younger Women's Task Force chapter looking for more ways to strengthen your connection with colleges and universities in your area?
Do you want to help local students develop vital leadership skills?
AAUW's national campus leadership programs are great tools to help you do just that, and now is the time to get involved!
---
          View AAUW's calendar of events by visiting the AAUW website at www.aauw.org.