Join Us Online via Zoom!

  
2021
Leadership Conference & Annual Meeting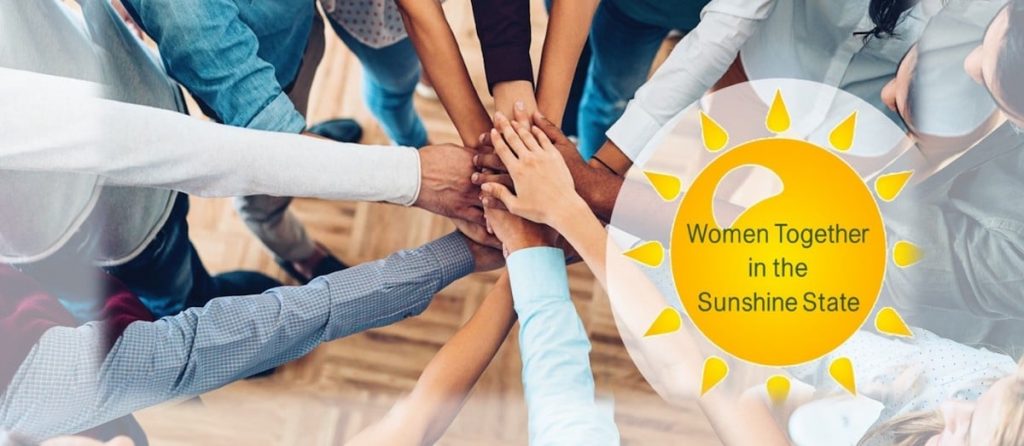 "Women Together in the Sunshine State"
April 16, 17, 18
FREE!
Pre-Registration is required.  You will be sent a Zoom invitation.
Guests are welcome at the Conference Sessions ~ Members Only at the Annual Meeting
We'll come together virtually to renew acquaintances and our commitment to equity for women at all stages of their lives. Programs and speakers will help you be:
An inspired leader.
Attuned to the issues of diversity and inclusion.
Able to address women's economic insecurity
Aware of social justice initiatives
Friday, April 16

4 – 4:30 pm
Zoom Sign-in

Zoom rules reviewed. Social time

4:30 – 5 pm
Time to Share

• Video: View a medley of statewide branch contributions of photos and accomplishments to demonstrate how women came together to overcome the many hurdles of 2020 and COVID-19.

• Named Gift Awards: Ellen Roche, AAUW FL Director for Development Presentation of awards to honorees selected by their branches. Branches earn this privilege based on the level of financial contributions made by the branch to AAUW National.

5 – 6 pm
Keynote Speaker: Janet E. Petro

Deputy Director, NASA, Kennedy Space Center. Graduate, U.S. Military Academy West Point

Topic: "Adapting to New Challenges"

Saturday, April 17

9:30 – 10:30 am

Diversity, Equity and Inclusion

Moderator: Jonnie Mae Perry, Chair, AAUW FL Diversity, Equity and Inclusion Committee

• Key elements of AAUW National's DEI Toolkit will be explored, including the 16 dimensions of diversity and the meaning of "intersectionality." – Erin Conn, Member, AAUW DEI Committee, and Melissa Ingram, Member, AAUW DEI Committee, DEI Toolkit Developer. (You're encouraged to check out DEI resources and the toolkit before the conference.)

• How the Lake Sumter branch used DEI resources for a series of programs, including "How to Start Difficult Conversations." – Linda Carpenter and Jacquie Latzer, Co-Chairs DEI Committee, Lake Sumter

11 am – Noon
Economic Security

Moderators: Ellen Roche, AAUW FL Director for Development and Kay Lee-Smith, AAUW FL Director for Public Policy

The essentials of women's economic security:

• Women face economic downturn during COVID-19 pandemic. – Barbara Ritter, Dean, Davis College of Business, Jacksonville University.

• Important elements in defining financial literacy for women today. – Laura Mattia, Certified Financial Planner.

• Review of current policy issues before the Florida Legislature. – Lori Berman, State Senator, Florida's 31st District.

Sunday, April 18
9:30 – 10:30 am
Shared 2020 Successes

Moderator: Bea Holt, AAUW FL Director for Program

View a compilation of 5-minute video presentations created by branches to demonstrate how they used leadership skills and innovative ideas to overcome the obstacles presented in 2020 amidst the worldwide pandemic.

11 am to Noon
Annual Meeting

Presiding Officer: Patricia DeWitt, President, AAUW Florida Meet nominated slate of officers; review proposed bylaws changes; hear pros and cons of proposed changes in membership requirements.
The Leadership Conference is a Bi-Annual Event.
We'll reset our agendas for 2021-22 and come away with an action plan that is Tenacious and Trailblazing and achieves a vision of equal opportunity for all.
Save the dates so you'll be ready when your email invitation arrives.
And watch for the March edition of floriVision, your state newsletter, where you'll find all the details about the conference and annual meeting, including a Voter Guide.