2023 Regional Leadership Workshops                                                & Annual Meeting
We typically hold a leadership conference in odd-numbered years at the same time as our annual meeting. But this year, we held four regional workshops, allowing close-to-home gatherings of branch leaders and those who aspire to leadership. 
The annual meeting, usually held with the conference to hear board reports and elect officers, was held via Zoom in May.  Candidates for office were unopposed, so they were elected by acclamation: Kay Lee-Smith, president elect; Ellen Roche, director for finance; Diana Sells, director for program; Patricia DeWitt and Mary Gatta, co-directors for public policy. 
 Workshop highlights
Convenient to home
The goal was to address the topics of governance and leadership development at the branch level. One workshop in each of four quadrants of the state meant that no one had to drive more than two hours to attend the one-day session. A pilot workshop was held in November in Venice. Members in branches in the northeast region met in Daytona Beach. Branch members n the southeast met in West Palm Beach in April. Those in the Villages also met in April. 
Encouraged sharing
Attendees were branch leaders and future leaders who met in an environment that fostered meeting counterparts, exchanging ideas, learning about being an effective leader, and contributing to a well-run organization.
The total number of attendees (around 100, with virtually all branches represented) was more than normally attend the annual meeting. Members reported that getting together with branches close to them geographically, and in smaller groups that were mostly discussion groups, was an improved version of a state leadership conference.  
The total time and financial commitment were far less than what had been typical before the Covid shutdown. 
Typical topics
All branches within a region participated in planning the topics they wanted covered under the general theme of governance and leadership development. They also determined the format for the day.  Here are examples from the northeast regional meeting in Daytona Beach. 
On Being the Best AAUW Leade

r – Motivations, rewards of being a mentor; opportunities at branch, state, national level; making a difference in your community

Brain-Storm with Counterparts – Break-out Sessions –

Share best practices, challenges, future plans, ideas; identify ways to work together for common goals

Branch Governance Principles Revisited –

Orientation of board members, new branch members; maintaining and archiving branch records; programs to education and stimulate

Member Recruitment and Retention – A Core Strategy for Success –

reaching out to new sources of members; integrating new members into branch operations; foster members as future leaders; increase local visibility and name recognition
---
2022 Virtual Convention & Annual Meeting

The pandemic scuttled our plans for an in-person convention in Orlando in 2022, so we went online again. The program was scheduled over three days – April 1 to April 3 – but only for a few hours a day, making it easier for members to attend. 
Sessions revolved around the theme of The Power of Story – 
How stories shape our lives and beliefs, and those of other

How to tell a true from a false story

AAUW's story – and how it has changed

How to tell our story. 
You can see videos of four informational sessions and the annual meeting on our Vimeo site.  
Keynote speaker: Michael Butler

, PhD, Kenan Distinguished Professor of History, Flagler College, St. Augustine, FL – "Myth, Memory, and the Power of Story" – How the Lost Cause story of the Confederacy has been perpetuated.

Mary Hickey, 

AAUW, Senior Director of Communications, AAUW, – "Telling the AAUW Story" — Followed by a Q&A session on how to use storytelling to effectively communicate an organization's work. 

Natalie Underberg-Goode,

PhD, Professor, Nicholson School of Communication and Media, University of Central Florida – "The Stories We Tell: Personal Narratives, Organizational Tales, and Digital Storytelling" – Personal narratives telling the organizational story of AAU Florida.

Mary Gatta

, PhD, Director of Research and Public Policy, National Association of Colleges and Employers – "The Power of Story in Qualitative Research
---
                  2021 Virtual Leadership Conference                          & Annual Meeting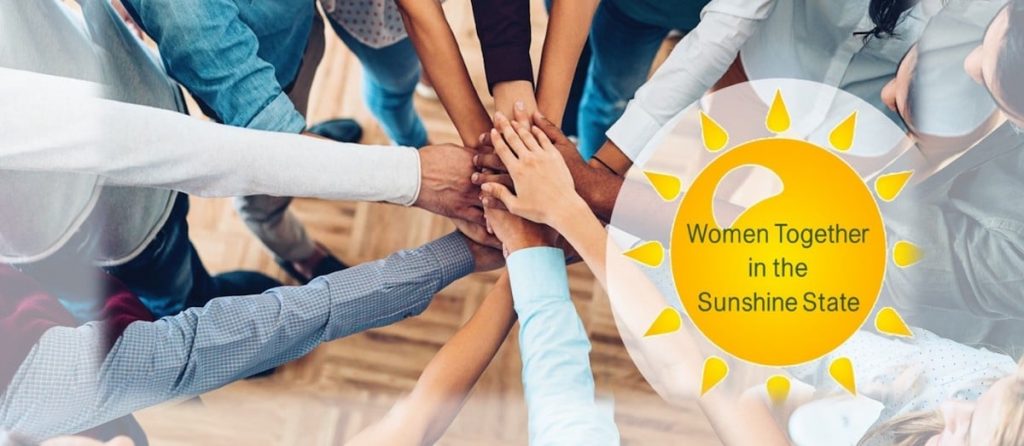 The pandemic made an in-person conference impossible, so we met through a Zoom webinar, April 16, 17 and 18. More than a hundred members logged in to learn, to celebrate, to be inspired.  
See it again
If you missed any sessions, or want to see them again, you're in luck because they were recorded.
Taking care of business
An annual meeting was conducted to elect four officers and to review two proposed amendments to our bylaws.  
Meet the new officers – Bea Holt was elected president-elect; Linda Russell, director for finance; Diana Sells, director for program; and Kay Lee-Smith, director for public policy. They all ran unopposed and will take office July 1. Check pages 6 and 7 in the

March 2021 floriVision

to learn more about them. 
Bylaws amendments – Two proposed amendments to our bylaws were also reviewed. Members as of March 30, 2021, are eligible to vote online or by paper ballot. Voting opened May 15 and closes June 15. 
One amendment codifies the action taken during the pandemic to conduct business electronically. The other rewords duties of the director for development so they are more general and not tied to specific programs.