AAUW Florida Research Puts Spotlight on Inequities
All women are entitled to economic security – but that's not the reality in Florida. To highlight the inequities, AAUW Florida and several local branches sponsored research that not only provides data about the problem, but offers policy recommendations, too. 
Four research projects were conducted by Mary Gatta, Ph.D., AAUW Florida Co-Director for Public Policy, and widely known for her research on gender, workforce, education, and aging. The projects for AAUW show that retired women in Florida are, in general, less economically secure in retirement than their male counterparts. Her research on Hispanic women and working Black women indicates even greater economic insecurity among those groups across their lifespans.  
Retired women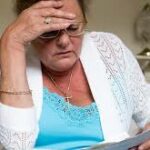 "Women, Economic Insecurity and Aging in the Florida Sunshine" was conducted for our St. Augustine and Jacksonville branches, and released in 2018. Using data from the report, Gatta also prepared a report focusing on St. Johns and Duval counties for the AAUW branches there.
In addition, she wrote an op-ed, "Older women's economic insecurity," published in the Sarasota Herald-Tribune, April 18, 2018. Her report "Aging, women and economic insecurity in Sarasota County" was released in October 2020, supported by our branch in Sarasota County and the Community Foundation of Sarasota.
Hispanic women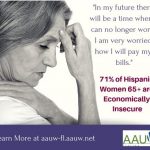 "Florida's Hispanic Women – Striving But Not Economically Thriving" was released in May 2019 and supported by our Daytona Beach, Jacksonville, and St. Augustine branches and a grant from AAUW Florida. 
Working Black women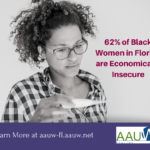 "Working Black Women in Florida and Economic Insecurity: A Story of Gender and Racial Inequality." Our Flagler, Jacksonville, St. Augustine, Sarasota, and Tampa branches supported this 2020 research through AAUW Florida grants and member contributions from the Weston branch. 
Read Gatta's op-ed, in the Florida Courier, April 24, 2020, "Florida Black Women Who Are Essential Workers Are Economically Insecure." View her video on her research, "Working Black Women in Florida."
Publicize our research
Publicizing the research in your community not only helps make others aware of the problem, but it lets them know about AAUW. That's a plus for membership recruitment, too. 
Download infographics in English and Spanish, like the ones above, to help you get the word out easily on social media and in traditional media outlets. Use them on your branch website and newsletter, too. 
Increase your knowledge