Economic Security for Women in Florida
April 2020 Research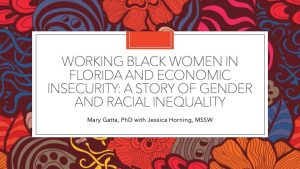 American Association of University Women (AAUW) Flagler, Jacksonville, St. Augustine, Sarasota and Tampa Branches supported this research through AAUW-Florida state grants, and the Weston branch supporting through member contributions 
Watch Dr. Gatta's video about her latest research
Read Dr. Gatta's Op-Ed in Florida Courier, April 24, 2020
May 2019 Research
American Association of University Women (AAUW) Daytona Beach, Jacksonville and St. Augustine Branches supported this report and infographics through financial support from members and a grant from AAUW Florida
Use the images below to help disseminate this report to local agencies, news outlets and local legislators – (Right click on image, Click on Save image as.., Save to appropriate file)
Hispanic Infographics – English

Hispanic Infographics – Spanish


IWPR report on the Status of Women in FL- Poverty and Opportunity
The Status of Women in Florida by County – A Report on Employment and Earnings
Increasing the Economic Security of Older Women- A Brookings Public Policy Report
Older women's economic insecurity – Op Ed – Sarasota Herald April 18, 2018 Mary Gatta, Ph.D 
Report investigates the experiences of women in retirement in Florida—statewide and focusing on St. Johns and Duval Counties in Northeastern Florida—5 page report with talking points – Mary Gatta, PhD.
Research and Reports
Economic security databases for workers (BEST Index) and retirees (Elder Index).  This databases provides the basic income levels for all 50 states and DC.
The Status of Black Women in the United States
Economic Security for Black and Hispanic Families
Retirement on the Edge: Women, Men, and Economic Insecurity After the Great Recession
Related articles
Single Women Face the Greatest Risk and Economic Insecurity