Become an AAUW Member Today
AAUW Florida!
New Members – Save if you join at a Shape the Future Public Event!  
Join Florida's AAUW (American Association of University Women) community.  Both men and women members support AAUW's mission of empowering women and girls.
Mission To advance gender equity for women and girls through research, education, and advocacy
Vision Equity for all
Values Nonpartisan  Fact-based
What does AAUW Florida do?    
Supports branches and members to make a greater impact on women and girls
Leadership conferences, speakers and funding for special projects 
Coordinates state public policy ~ Lobby Days and legislation advocacy 
Tech Trek STEM camps for girls
Find a branch near you.    All branch members are members of AAUW Florida.  
Membership Dues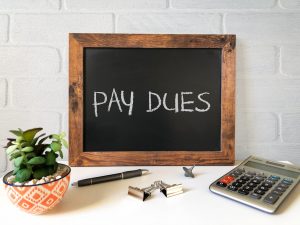 Regular AAUW Branch Members 
AAUW branch membership dues are calculated as 
AAUW National dues ($59) + AAUW Florida dues ($12) + Branch dues (varies by Branch)
With $56 of national dues tax-deductible.  https://www.aauw.org/resource/aauw-national-dues-fees-and-tax-deductibility-flyer/   Annual dues year is July 1 through June 30.  Shape the Future discount is available for first time members at specified public AAUW events. 
Dual AAUW Branch Members
Primary Branch is in Florida  — pay only branch dues to second branch
Primary Branch is not in Florida — pay state and branch dues to second branch
Student Affiliate as Branch Members
are encouraged to join a local branch as a student affiliate.  For some branches, you can join as a Student Affiliate on the AAUW National website.  For other Branches, it is necessary to contact the Branch in order to join.   See their branch web sites, or contact their Branch President, for more information on Branch memberships and payment of dues.
Memberships for Students of Non-AAUW College/University Members, that do not join a Branch, is $18.81.  Undergraduates or degree-seeking graduate students enrolled in full-time or part-time programs may join and renew at this rate through graduation.
Students at College/University Partner schools:   Students can received free e-memberships, if their school is a College/University Partner.  See if your school is one of the 800 AAUW College/University Partners.
Join as a national Student Affiliate with annual dues of $18.81.   $16.81 is tax deductible as a charitable contribution, and $2 is not (because it supports the AAUW Action Fund's Section 501(c)(4) Lobby Corps and get-out-the-vote activities).
Join as a Branch Student Affiliate   Contact a branch
Any accredited higher education institution is eligible to become a C/U member and can appoint one or two eligible representatives to receive free national membership.  Local branch and state membership dues are an additional cost (Dues are $175, and are fully tax-deductible).
Contact Susan Cornehl  – AAUW Florida College University Chair
Benefits of Joining AAUW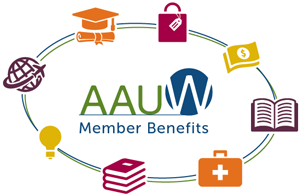 Click here to find out more about AAUW Member Benefits
AAUW – FL offers
A respected coalition to address state and regional issues

Active Public Policy Advocacy at state and federal level:  gender equity in education, elimination of harassment, Title IX, equal pay, women's issues, including women in STEM

Conferences and workshops with expert, stimulating speakers

Advocacy information on AAUW priority issues

Centennial celebration of Women's Suffrage
 Branch offers
Study and take action on current problems and issues

Participate in branch projects which enrich and support the community

Business and career networking

Friendships and support from dynamic, educated members of diverse occupations, lifestyles and ethnic groups
You can give AAUW memberships to as many recent graduates as you like.
FOR MEMBERSHIP INFORMATION: