We're Mission Directed
Our public policy program is directed by our mission – to advance gender equity for women and girls through education, advocacy, and research. The guiding principles of our Florida public policy program are aligned with AAUW National's Public Policy Priorities, established every two years by an every-member vote.
AAUW has identified six key gender equity issues for 2020: voting access; pay equity; paid sick and family leave; college affordability, campus sexual harassment and violence; and health care access and reproductive rights.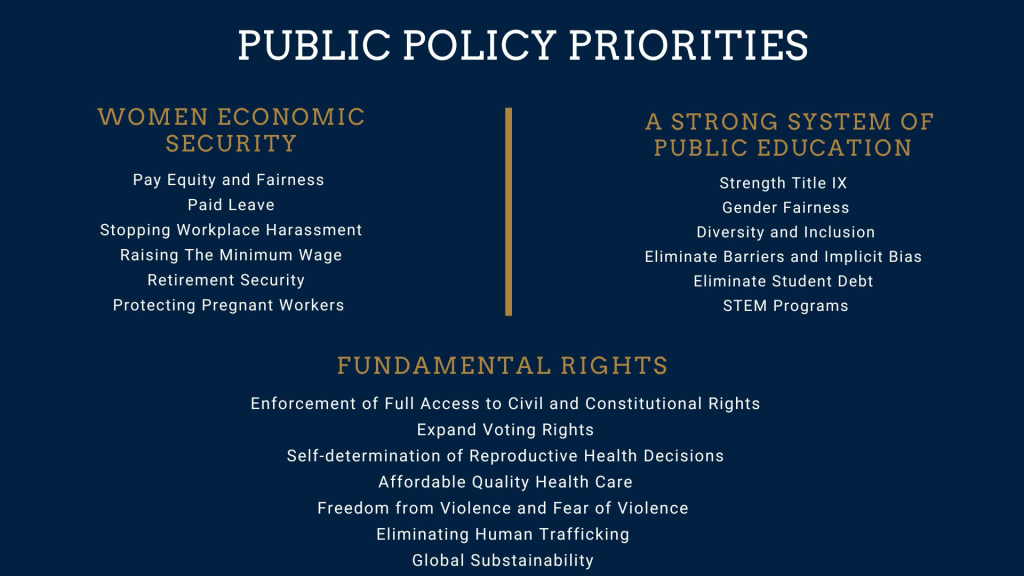 In addition, AAUW National recently announced its gender policy agenda, outlining priorities for the 2022 election in economic security, education, and foundational rights. As a nonpartisan organization, AAUW does not endorse specific candidates, but throughout its 140-year history, had been a staunch advocate for policies that improve the lives of girls, women, and their families. 
State committee. Our Director for Public Policy, Kay Smith, and the AAUW Florida Public Policy Committee work together to identify legislative issues to develop AAUW Florida's Legislative Agenda. The committee represents AAUW's public policy priorities to AAUW members, the public, and the media. 
The committee also organizes members and supporters to take action on priorities; leads voter education and get-out-the-vote (GOTV) campaigns for Florida; and coordinates the annual Lobby Days at the State Capitol. Email us if you're interested in joining the committee. 
Branch role. Our branches play a key role in accomplishing AAUW's mission, especially in public policy. Branches advocate at the local levels and may support or oppose a policy, ordinance, or bill by referencing AAUW National Public Policy Priorities. If in doubt about AAUW's position on issues, email the committee for vetting.   
Your participation. As an AAUW member you play a pivotal role in the success of our public policy program. Make sure you are 1) registered to vote and 2) registered for the  AAUW Action Network to receive national and Florida email notices for your legislators. It is also important to know who your Florida and national legislators are, find out here.