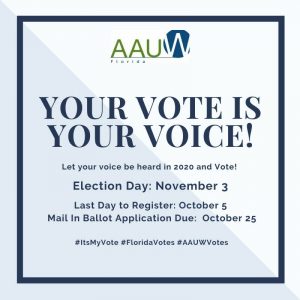 How You Can Be An Informed Voter
The November 3 general election is fast approaching. And while every election is important, this one has special significance, because 2020 is the centennial of the passage of the 19th Amendment providing equal rights for women, including the right to vote. 
AAUW FL is ready to help members know what's at stake for the upcoming election – because When Women Vote, They Change the Conversation!
A nonpartisan organization, AAUW FL promotes open and fair elections and nonpartisan voter education information. We also promote equitable political participation and representation in elected office.  
Understand the issues
A variety of nonpartisan materials have been developed to help educate our members and communities on election issues. Although we are nonpartisan, we believe it is extremely important for you to know what the issues are, as well as the candidate's position on issues, prior to casting your vote.
AAUW has identified six key gender equity issues for 2020:  voting access, pay equity, paid sick and family leave, college affordability, campus sexual harassment and violence, and health care access and reproductive rights.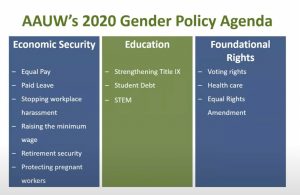 In addition, AAUW National recently announced its gender policy agenda, outlining priorities for the 2020 election. Find out more.
Use these resources
These resources from the AAUW Action Fund can help you be an informed voter: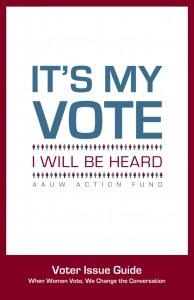 The 2020 Voter Issue Guide provides nonpartisan information about the policy concerns that are critical to women and their families. Use it to prompt conversations about what's at stake in this election. Consult it to develop questions to ask your candidates and your elected officials to get them on the record on the issues that matter most. 
The Federal Election Head to Head Voter Guide Template allows you to compare candidate positions on AAUW issues such as economic security, education, and civil rights. You can annotate the position of each candidate. 
The US Congress Candidates Head-to-Head Guide to FL Template reflects specific Florida issues. It too will identify candidates who support or oppose AAUW issues relative to Florida.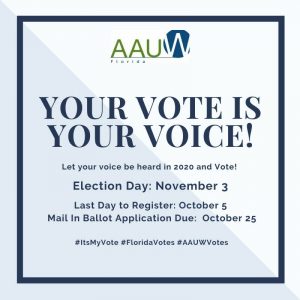 Social Media Tags Click Here