(Travel on March 13 and Lobby March 14 -15)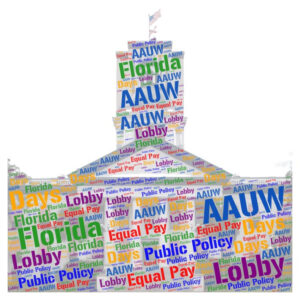 Advance gender equity
for women and girls at Lobby Days 2023
We will meet legislators face to face after two years of virtual lobbying due to the pandemic.
The AAUW Florida Public Policy Committee is working now to establish the 2022-2023 legislative agenda and planning a Lobby Day experience that will focus on public policy priorities: economic security, education and civil rights.
Strength in numbers.
Meeting legislators in person is an effective and exciting way to make sure they understand AAUW positions on our priority issues. And there's strength in numbers. If every branch sent representatives to lobby, our case would be more powerful. Please start now to assemble a group from your branch.
We realize it is a commitment of time and money, so AAUW Florida will offer a small stipend to help offset travel costs. Stipend: graduated scale ($50-$80) depending on your driving distance plus $50 to help with lodging. This is to help with expenses, not cover all of them.
Schedule: Our Lobby Days are planned near the start of the 2023 legislative sessions, which runs from March 7 to May 5.
AAUW advocates should plan to arrive in Tallahassee on Monday night, March 13, for a short meeting in preparation for our visit to the capitol on Tuesday, March 14.
 A Pre-Lobby Day Legislative Agenda/Public Policy Discussion and training session will be conducted, 2 March 2023 @ 7:00 p.m. prior to our departure for Tallahassee, addressing the "who, what, when, where, why and how of Lobby Days." Please register for this Zoom event even if you will not be attending lobby days for information on how to advance gender equity through advocacy. 
You are invited to a Zoom meeting.
When: Mar 2, 2023 07:00 PM Eastern Time
(US and Canada)
Register in advance for this meeting:
After registering, you will receive a confirmation email containing information about joining the meeting.
Dinner together Tuesday evening location TBA.
A Lobby Day action alert distributed while we are in Tallahassee. In order to receive the alert, you must be signed up as a Two Minute Activist.
Plan ahead:
If you are planning on attending Lobby Days 2023, start making your appointments with your state legislators today.
Also, it's not too early to make hotel reservations. The public policy committee has secured a block of rooms at the Tryp By Wyndham, formerly Comfort Inn & Suites, Tallahassee North I-10 Capital Circle, 1978 Village Green Way, 850204-4000. Click here to register for lobby days and get instructions to book your room at the discounted rate of $85 per night.
Hotel for Lobby Days
Hotel Address: Tryp By Wyndham, formerly
Comfort Inn & Suites Tallahassee North – I-10
Capital Circle
1978 Village Green Way
Tallahassee, FI 32308
t: 850.204.4000
Hotel Booking: Please contact the hotel via phone to book (AAUW Florida Block) before 27 February 2023
Room Rate: $85 per night
Note: Hotel Name changed to Tryp By Wyndham
---
VIRTUAL ADVOCACY WEEK 2022                             
 January 18 through January 21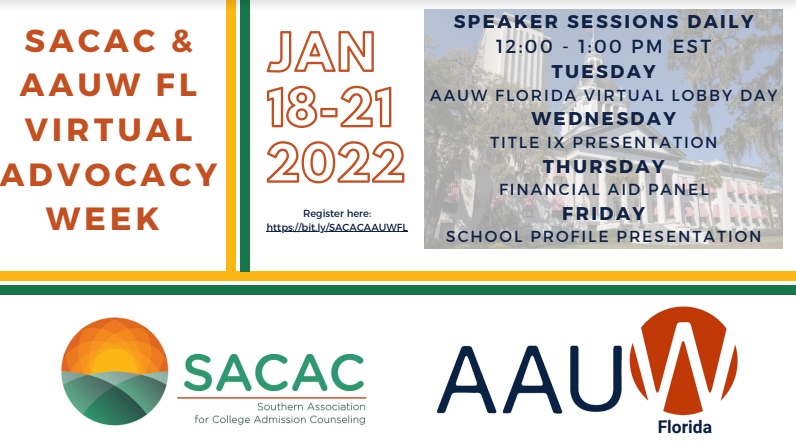 Every year, we schedule Lobby Days to let Florida legislators know where AAUW Florida stands on important issues. Last year we partnered with SACAC (Southern Association for College Admissions Counselling) for Virtual Advocacy Week, Tuesday, January 18 through Friday, January 21.  We weren't able to lobby our legislators in person due to the pandemic. But technology made it possible for us to make sure lawmakers understand issues important to us.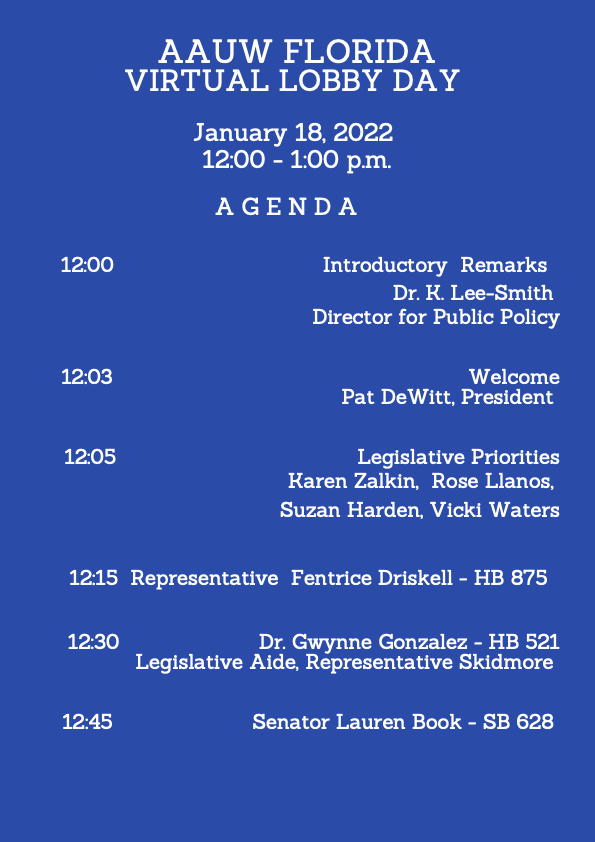 Daily sessions: Noon – 1 p.m.
Learn from panels and speakers on key issues and legislative priorities:
Tuesday, January 18

 –

AAUW legislative priorities, including women's economic security, education, civil rights, and voting issues  

 

Wednesday, January 19

 –

Title IX

 

Thursday, January 20

 –

Financial aid

 

Friday, January 21

 –

School profiles

 
Information and tools 
The AAUW FL Public Policy Committee has assembled a host of resources to help you make lobbying successful.  
—Office of Diversity and Inclusion 
—Partisan Elections for School Boards 
—Racial and Sexual Discrimination 
 

Respond to the AAUW-FL Action Alert when received from National.
---
AAUW Virtual Lobby Days – 2021
March 17, 2021
How we spent the day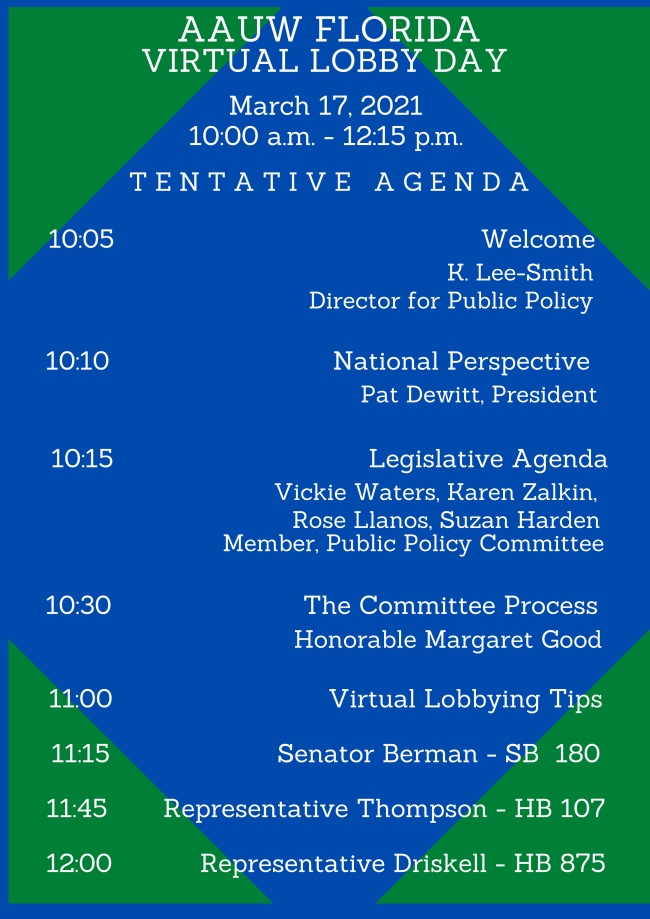 We weren't able to lobby our legislators in person this year due to the pandemic. But technology made it possible for us to make sure lawmakers understand issues important to us. 
More than 50 members heard speakers from both the Florida Senate and House as well as members of AAUW Florida Public Policy Committee through Zoom. The two-hour morning session workshop also  provided information on key bills and tips on virtual lobbying. 
Participants then spent the rest of the day meeting virtually with their legislators to discuss our legislative agenda. 
How we prepared
Before Lobby Day, participants did their homework. You can use the same preparations before getting in touch with your legislators. You don't have to wait till next year's Lobby Days.