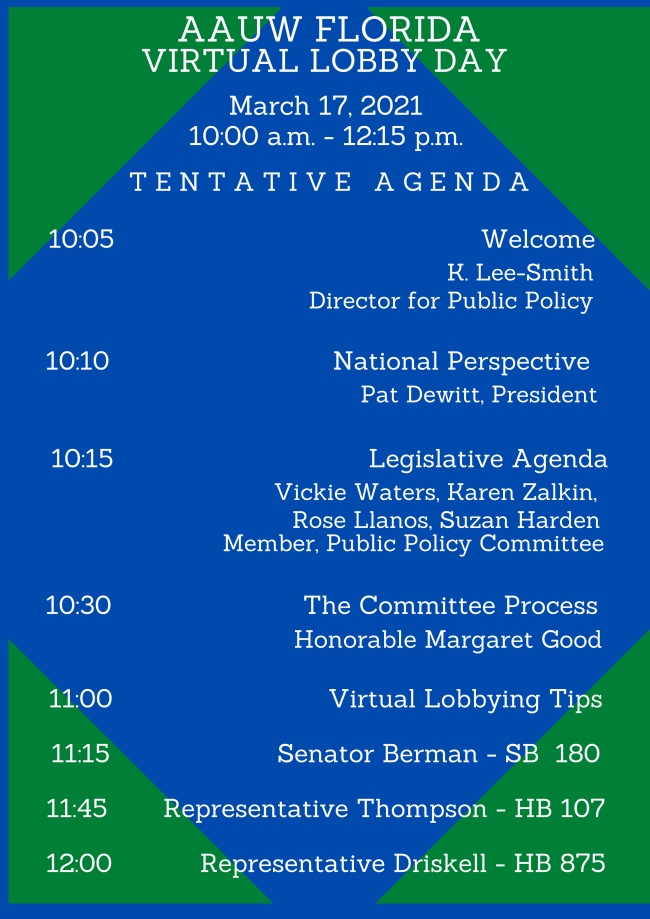 After registering, you'll receive a confirmation email with the information needed to join the meeting. The meeting will now run until 12:15 p.m. to accommodate legislators' schedules. 
How to prepare
What will it mean to engage in virtual lobbying? What preparations should you make before Lobby Day – or  if you want to reach lawmakers another time? 
Identify your

legislators

and call or email them or their legislative aides to arrange meetings. 

Identify your

county legislative delegation

 by AAUW branch. 

Give legislators information about AAUW when you contact them. The state public policy committee will provide guidance.  

Sign up to be a

Two-Minute Activist

.  

Review

AAUW Quick Facts

. 

Review our positions for the top priority bills on our legislative agenda, and talking points.
Plans for the day
From 10 a.m. to 12:15 p.m, you'll hear speakers on our 2021 legislative agenda; participate in a short workshop on bill tracking and an information session on bills and the impact of their related committees; and get tips for virtual lobbying. For the rest of the day, you'll meet virtually with your legislators to discuss our legislative agenda.   
10:05 a.m.

     

Welcome: K. Lee-Smith, AAUW FL Director for Public Policy

10:10 a.m.

     

National Perspective:  Patricia DeWitt, AAUW FL President

10:15 a.m.

     

Our 2021 Legislative Agenda: Vickie Waters, Karen Zalkin, Rose Llanos,                                         Suzan Harden,

AAUW FL Public Policy Committee

10:30 a.m.

     

The Committee Process: Honorable Margaret Good

11 a.m.           

Virtual Lobbying Tips

11:15 a.m.

       

SB 180: State Sen. Lori Berman

11:45 a.m.

       

HB 107: State Rep. Geraldine Thompson

12 pm.

             

HB875: State Rep. Fentrice Driskell
Positions on priority bills
Talking points
This information will help you discuss the issues for our priority bills. 
---
AAUW Florida Lobby Days 2020
January 21-22, 2020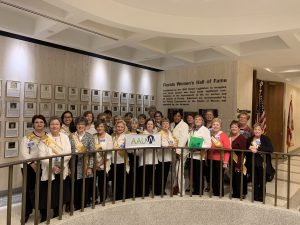 We were at the Capitol!
Thirty-two AAUW members, representing 13 Florida branches, traveled to the state capitol in Tallahassee to lobby our legislators to support these AAUW Public Policy Priorities – Pay Equity and the Florida Family Leave Act, the Equal Rights Amendment and the Prevention of Human Trafficking.   The AAUW Lobby Corps, identified by  gold sashes, visited the offices of their senators and representatives armed with AAUW talking points and leave behind materials and sat in on committee meetings.