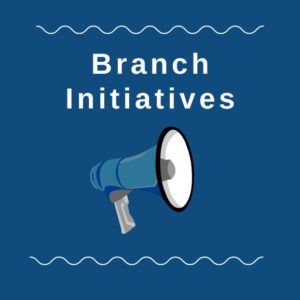 How Branches Advance Public Policy
Vero Beach: Equal Pay Day Awareness Activities
By Suzanne Jones
The Vero Beach, Florida Chapter of AAUW has actively engaged in EQUAL PAY DAY advocacy efforts for the last 2 years.  In 2016, we asked our local merchants to give women in our community a 21% discount on selected purchases on Equal Pay Day.  We further presented Proclamations at the Vero Beach City Council as well as Indian River County, and distributed print information at our county library.
In 2017, Proclamations were again presented at our City Council and the Indian River County Board of Commissioners on dates just prior to April 4.  Our new Public Policy Director presented an impassioned speech at both meetings which was well received. There was a large audience at the County Commissioner's meeting, and we later received feedback from two people who described "tingling feelings" that this speech was actually happening in these chambers!
We again set up tables at our county library and the downtown park distributing information from our AAUW National website about Equal Pay Day, the Paycheck Fairness Act of 1997, the Florida Helen Gordon Davis Fair Pay Act of 2017, and various voting records of Florida Legislators including email and phone numbers.  We printed Equal Pay Day candy wrappers and gave out lots of candy, and five women completed interest postcards seeking information about AAUW in Vero Beach. Colorful posters were placed in the windows of local businesses for public information and awareness.
Lastly, we created articles for publication in our area newspapers describing the legislative history and inequality of women's wages, receiving some interesting feedback.
Sarasota: Meetings with Legislators -Lobby Days
By Ellen Roche, President
Our Branch discovered that we could meet with our representatives in their district offices.  The great thing about this is that it is convenient to so many members!
Eight members met with Sen. Greg Steube on January 5, 2017.  I had prepared a short presentation and was surprised when he spent 30 minutes with us.  Our members got an education about the issues he considered important. He definitely knew that we were concerned about women's issues.
Six members met with Rep. Alexandra Miller on January 31st.  She was generous with her time as well and was somewhat more sympathetic to our issues.   We have established a point of contact with both representatives and hope to build on this in the future.
Jacksonville: A Collaborative Equal Pay Day
By Kay McKenna
Jacksonville AAUW 's annual Equal Pay observance was held on Tuesday, March 28, 2017 at the Garden Club of Jacksonville. AAUW was the lead sponsor with co-sponsors Delta Sigma Theta Sorority, Inc., Jacksonville Area NOW, The Women's Center of Jacksonville, The Women's Center at UNF, The Powell-Williams Law firm, PA, and Meltonia May Jenkins of Jenkins Quality Barbecue.  Over ninety women attended. Box lunches were provided along with a gift bag for each person, which included an AAUW history of equal pay and a legislative road map for making equal pay the law in Florida.
Speakers, introduced by Susan Cornehl, included Audrey Moran, Senior VP for Social Responsibility and Community Advocacy at Baptist Health and past President of Jacksonville Chamber of Commerce, Attorney Juanita Powell-Williams of the Powell-Williams Law Firm, and Pat DeWitt, Public Policy Director of Florida AAUW
A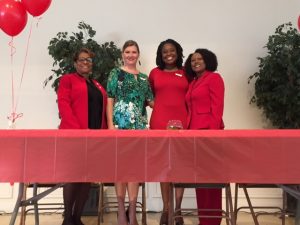 panel of three women shared their work place experiences regarding pay equity: (left to right) Juanita Powell-Williams moderator; Kimberly Beasley, Assistant Professor of Voice at Jacksonville University; Tashia M. Small; Lori McCraw-Baker, Vice President of Total Rewards.
Lake Sumter:  Getting Out the Vote
By Judy Bonn
The AAUW Lake/Sumter Branch made our Get Out the Vote (GOTV) efforts in 2016 at our partner colleges, Lake Sumter State College and Beacon College, both in Leesburg, Florida.
At Lake Sumter State College, we participated in the "Welcome Back Bash" on August 31st. There we registered approximately 11 students to vote. Training is required in order to register voters, and we were fortunate to have the help of a local activist, Sharon Kiel, who is trained.
On October 1st at the Beacon College Club Fair we distributed 15 pizzas and registered more than 15 students to vote. Since these students are from all over the country and are not only Florida residents, we also provided them with forms and advised them how to vote by absentee ballot in their home states.
We had arranged to return to Beacon College on October 7th, Parents Weekend, to see if we could register additional students, perhaps their parents as well, and distribute more absentee ballot forms. Unfortunately, Hurricane Mathew had other plans! Beacon College was forced to close for Parents Weekend and the registration books closed before we could get another date to go back.
Despite a rather windy change in our plans we still felt that we had done a good piece of work.