VIRTUAL ADVOCACY WEEK 2022                               
January 18 through January 21


ARE YOU READY TO LOBBY!
Every year, we schedule Lobby Days to let Florida legislators know where AAUW Florida stands on important issues. This year, we've partnered with SACAC (Southern Association for College Admissions Counselling) for Virtual Advocacy Week, Tuesday, January 18 through Friday, January 21.
Join us! There's still time to register! You can make a difference without leaving home!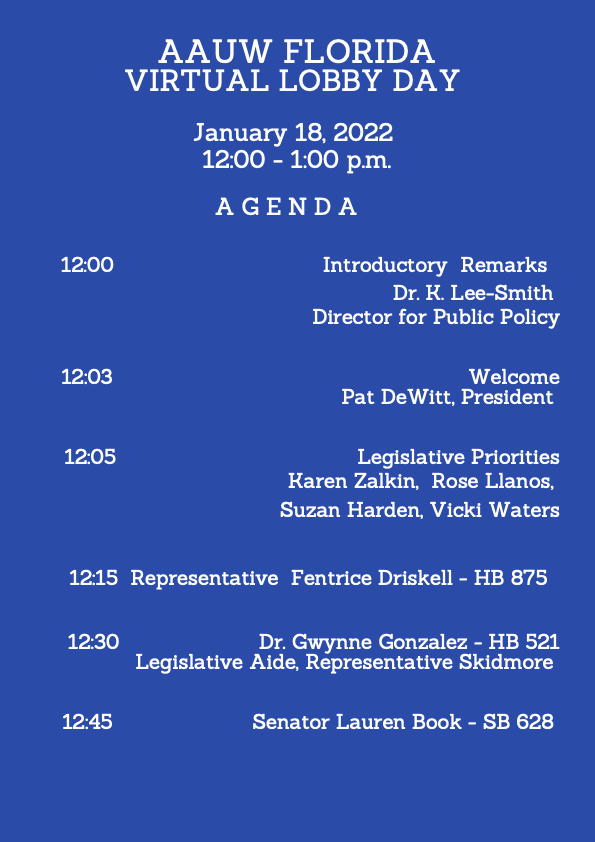 Daily sessions: Noon – 1 p.m.
Learn from panels and speakers on key issues and legislative priorities:
Tuesday, January 18 – AAUW legislative priorities, including women's economic security, education, civil rights, and voting issues
Wednesday, January 19 – Title IX
Thursday, January 20 – Financial aid
Friday, January 21 – School profiles
Information and tools 
The AAUW FL Public Policy Committee has assembled a host of resources to help you make lobbying successful.
—Office of Diversity and Inclusion
—Partisan Elections for School Boards
—Racial and Sexual Discrimination
Review the AAUW Public Policy Advocacy Toolkit for more suggestions.