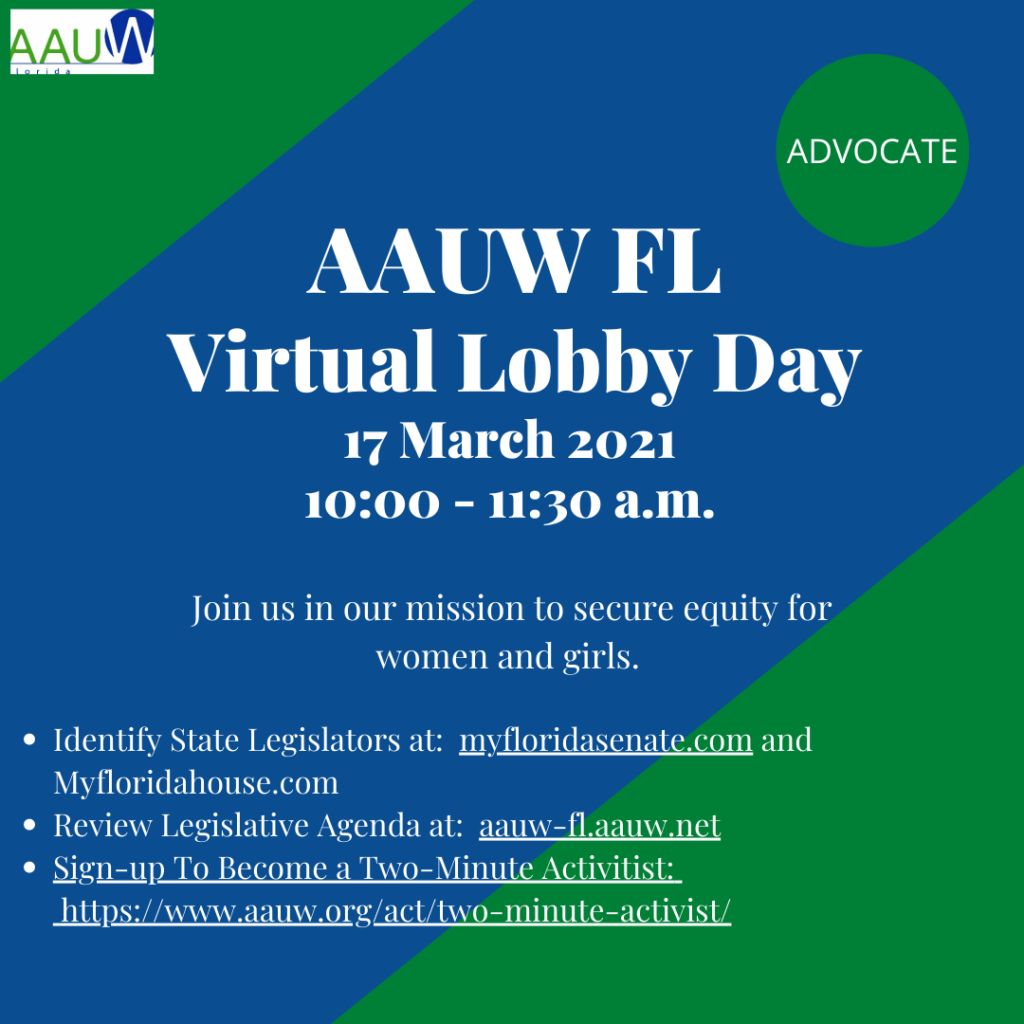 After registering, you'll receive a confirmation email with the information needed to join the meeting.
Plans for the day
From 10 a.m. to 11:30 a.m.,  you'll hear speakers on our 2021 legislative agenda; participate in a short workshop on bill tracking; an information session on bills and the impact of their related committees; and get tips for virtual lobbying. 

We'll distribute a state Action Alert for the priority bills on our legislative agenda. Be sure to sign up as a

Two-Minute Activist

so you'll get the alert. 

For the rest of the day, branch members will meet with their legislators to discuss our legislative agenda. Talking points will be available. 
How to prepare
What will it mean to engage in virtual lobbying? What preparations should you make?
Identify your

legislators

and call or email them or their legislative aides early to arrange meetings.

Identify your

county legislative delegation

 by AAUW branch. 

Provide information about AAUW. The state public policy committee will provide guidance. 

Sign up to be a

Two-Minute Activist

. 

Review

AAUW Quick Facts

. 

Some branches may decide to meet with their legislators now, prior to or after Lobby Day. Contact the public policy committee if resources are needed.

Review the top priority bills on our legislative agenda that we're tracking and plan talking points.
– Discrimination in Labor and Employment: HB107/SB256
Prohibits employer from providing less favorable employment opportunities to employees based on their sex; provides civil penalties; prohibits employer from taking employment actions against employees; prohibits employer from engaging in certain activities relating to wages and benefits, and from requiring employees to sign certain waivers and documents; authorizes employer to confirm wage or salary history under certain conditions. 
– Human Trafficking Education in Schools: HB 519/SB 554
Revising required health education in public schools to include information about dangers and signs of human trafficking; specifies minimum requirements in curriculum.
– Medicaid Coverage:  SJR 276  
Proposes new section in state constitution to requirement amending state Medicaid plan to provide Medicaid to those under age 65 with incomes equal to or below 138 percent of federal poverty level. 
–  Office of Diversity, Equity, and Inclusion: HB 275/SB180
Establishes,  office within the Executive Office of the Governor; provides for appointment of chief diversity officer; assigns duties and responsibilities.
– Intelligence-led Policing: HB 875/SB808
Provides requirements for intelligence-led policing and law enforcement agencies that use it; requires certain information be provided to a targeted individual.